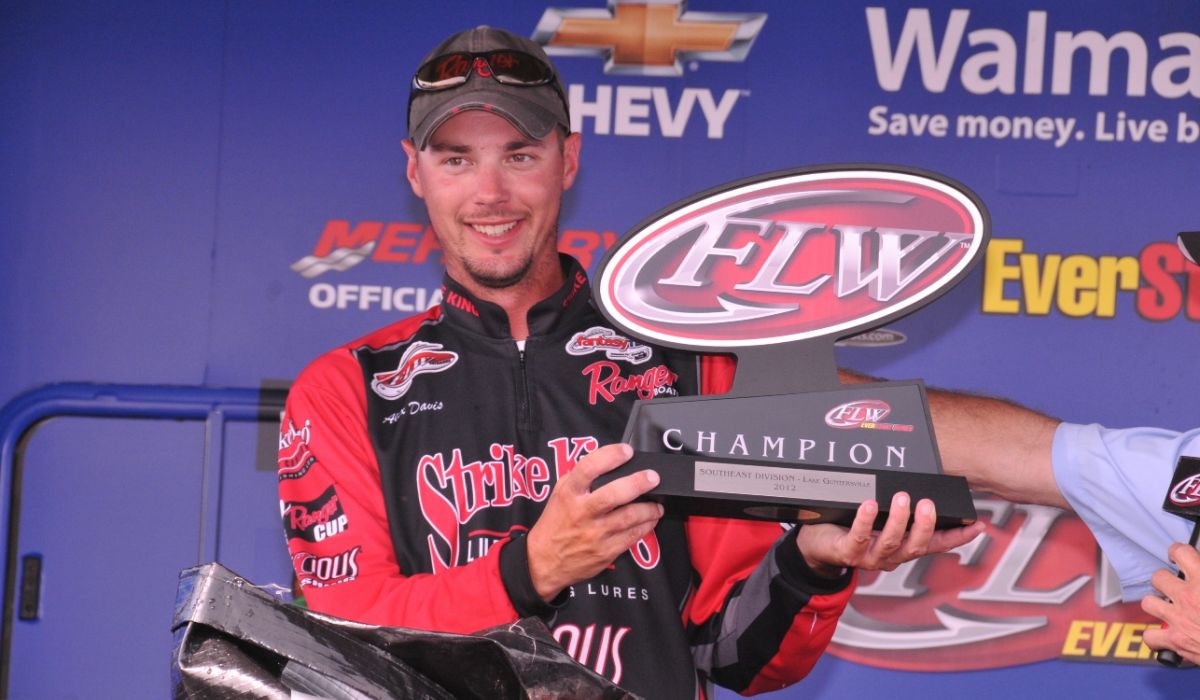 Courtesy

Alex Davis is a full-time guide at Lake Guntersville who bills himself as "the Spinnerbait Kid." However, it was the Alabama Rig that carried him to victory at last week's Southeastern EverStart on his home water.

The 26-year-old amassed 81-12 over 3 days to edge FLW Tour pro Justin Lucas by a little more than 3 pounds. The A-Rig accounted for 12 of his 15 weigh-in fish.



Ironically, he believes the A-Rig cost him a win at last October's Guntersville FLW Tour Open. That tournament was the coming-out party for the umbrella-style contraption and he was the only Top-10 finisher who wasn't throwing it on the final day, opting to stay with his grass pattern.

"If it hadn't shown up until a week later, that one could've been a whole different ball game," he said.

It was the key weapon in his own arsenal this time, and he employed it with deadly precision. He caught a 30-pound bag on day 2, then added 27 on the final day to hold off a desperate charge by day-1 leader Lucas.

The win was the first at the triple-A level for Davis, who plans to fish a full Tour schedule in 2013. Here's how he did it.

Practice

Davis' life could be characterized as one continuous practice session for Guntersville tournaments, as he's on the water (either guiding or fishing on his own) 6 days a week. He'd competed in a BFL there the previous week and said he lost several quality fish en route to a 25th-place showing.

"I can't blame anybody but myself for that one," he said. "I had the fish on to end up in the Top 3, but that's one of those 'woulda, coulda, shoulda' kind of deals."

Plying the lake's ever-abundant grass was the key to faring well in that event, and he thought that scenario might carry over to the EverStart. But once the EverStart got under way, it quickly became apparent that post-spawn fish on the ledges were the ticket to contention.

Competition

> Day 1: 5, 24-09
> Day 2: 5, 30-02
> Day 3: 5, 27-01
> Total = 15, 81-12

Davis started day 1 in the grass, thinking he could box 20 pounds without too much difficulty. But when he only had 13 after several hours of concentrated effort, he knew he had to move to the depths and throw the A-Rig.

He went to a ledge where he'd enticed a couple of big ones while prepping for the BFL and sacked up his 24 1/2 pounds in about 10 minutes. That put him in 8th place – a little less than 5 pounds off Lucas' pace.

He had about 23 pounds after the first 2 hours of day 2 when he told his co-angler they were "going practicing" (i.e. visiting deep spots that he knew about, but hadn't fished recently). The first one yielded 20 pounds in 10 minutes, but none of those fish helped him. The next one surrendered 30 pounds in less than half an hour.

He started day 3 with a 4-pound edge over 2nd-place Casey Martin. The fish at his first stop quit biting after he'd amassed about 20 pounds, and then he caught all of his weight at his second stop.

"I threw back a bunch – I think on the day I caught 20 fish that (combined to weigh) almost 100 pounds," he said. "Some were in 12 feet (of water), some were in 20 feet and I could see some on my graph in 30 feet, suspended at about 15 feet. I'd have to make a lot of casts for those and count down the lures, and once in a blue moon I'd get it right."

Once he began fishing the depths, he focused on a 15-mile stretch that included Honeycomb Creek, Brown's Creek and Seibold Creek. He fished approximately two dozen locales along that run.

"I'd stay for a bit and if I was catching fish, I'd just sit on them. If I wasn't, I'd just run to the next one."

Winning Gear Notes

> A-Rig gear: 7'11" heavy-action iRod or 7'6" heavy-action Halo rod, Abu Garcia Skeet Reese Revo or Shimano Curado E7 casting reel, 65-pound Vicious braided line, 1/8-, 1/4-, 3/8- or 1/2-ounce Strike King or Buckeye J-Will jigheads, Strike King Shadalicious (chartreuse shad) or unnamed swimbaits (shad).

> Soft jerkbait gear: 7'6" medium-heavy Abu Garcia Veritas rod, Shimano Curado E7 casting reel, 17-pound Vicious Pro Elite fluorocarbon line, 3/4-ounce Revenge jighead, Strike King Z2 (shad).

The Bottom Line

> Main factor in his success – "Figuring out that the grass wasn't happening anymore and going and fishing places that I knew about, but didn't fish in practice."

> Performance edge – "My Humminbird electronics. I'd turn the sensitivity way up and I could see the suspended fish and see where the bait was. For fishing deep stuff, you need that real bad."

Notable

> Those interested in booking a guided trip with Davis can contact him through his website, www.SpinnerbaitKid.com.