Courtesy

05.May.2012 by Rob Newell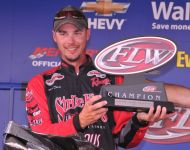 GUNTERSVILLE, Ala. – In October of 2011, young Alex Davis of Albertville, Ala., was set to make his pro debut in the FLW Tour Open on his home lake in a big way.

Davis, also know as The Spinnerbait Kid for his love of spinnerbaits and his guide service of the same name, is a Guntersville expert and fishing conditions were perfect for him to strike in October: super tough.

Ultra tough fishing often gives locals the advantage, especially in the fall, due to their intensive knowledge of a fishery. Hence, the stage was set up perfectly for Davis.

Then the unthinkable happen: The Alabama Rig bomb dropped. Paul Elias and a handful of other pros dominated the event with what has arguably become the most productive fishing contraption in the history of fishing.

Despite not having an Alabama Rig in October, Davis still managed to finish 10th – a small consolation for what could have been.

But instead of lashing out at a technique that very well could have cost him a $100,000 win, Davis went right to work learning everything possible about the new way of catching bass on TVA impoundments.

And this week, Davis' willingness to embrace and understand the Alabama Rig – or castable umbrella rig – paid off handsomely with his first EverStart Series win worth $35,000 plus a new Ranger Boat.

"What an amazing day," said Davis after his win. "I probably culled through 75 pounds of bass to get to my weight today. The number of 4.60 and 4.70 bass I threw back was just unreal."

Speaking of weight, Davis' daily totals included, 24-9, 30-2 and 27-7 for a three-day total of 81 pounds, 12 ounces. Needless to say, the quality of bass that Guntersville is pumping out right now is just mind boggling.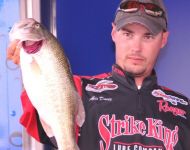 Consider that out of the top 10 who fished for three days, 27 of the 30 limits were over 20 pounds.

Still not impressed?

Okay, how about 13 of the 30 limits being 25 pounds or better?

Most of those big bags came from the lower end of the lake in Guntersville's deepest water – from 20 to 40 feet.

"The average depth of my fish was about 29 feet," Davis revealed. "I did fish shallow some this week, but without a doubt all my big fish came deep, primarily from two spots. One was a creek channel ledge that drops to 30 feet and the other was stumpy ledge on the main river."

Davis's primary arsenal included various homemade Alabama rigs. He used three different models that graduated in size from small, medium to large. He used all Strike King Shadalicious bodies and Buckeye JWill jigheads.

"The night after the FLW Tour Open in October I stayed up all night making Alabama rigs. And from that point in time until now, I have schooled myself on it. This winter I saw things with that rig that would blow your mind – 50 fish days of fish over 4 pounds."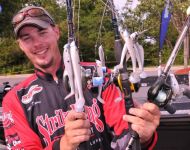 "They said it would be the miracle cure that would allow anyone and everyone to win tournaments and I'm here to tell you that's not the case. Guntersville is where the Alabama rig started and look at who has won the BFL's and big tournaments here for the last eight months. Look at who did well in this tournament. It's the same names that always do well here. My point is you still have to know when and where to throw it. The same guys are still going to catch them, they just have a different tool to work with now."

As for Davis' future in professional fishing, look for him to possibly fish the FLW Tour next year.

"I really owe this win to my mom and dad," Davis added. "They moved the family down here seven years ago just so I could fish, start a guide service and try to fish professionally. And this win couldn't have come at a better time. I've been saving my money with plans of fishing the FLW Tour next year, so this is really going to help."