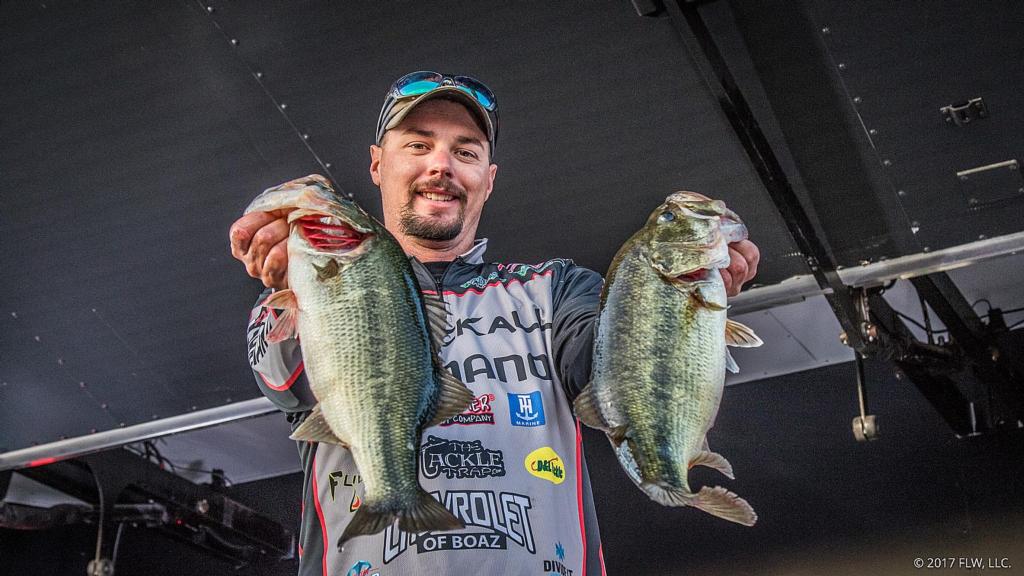 Photo: FLWOutdoors.com
Article from Bassfan.com
> Day 3: 5, 20-02 (15, 54-06)
For Davis, this time of year ranks among his favorite seasons to fish at Guntersville because of the potential to catch some big fish and big stringers. He's going after both tomorrow as he stalks his first career Tour victory.
"If I can catch 25 and (Mark) catches 18, I win," he said. "That's the greatest thing about this lake – somebody can have a good bag and you can catch a big bag and make a comeback quick."
So far, he's caught every fish he's weighed in either out of hydrilla or off stumps or shell beds. Today, he concentrated on the main river, hoping to intercept some bigger fish preparing to move up to staging areas.
"I changed absolutely nothing," he said. "I tried to hit places at different times, but I don't feel like I've made great decisions. I've made good ones, but there's something I'm missing. I haven't figured it out yet. I'm trying to hit places at the best times, but the stars haven't lined up yet."
Davis has won at virtually every level at Guntersville and says a Tour win would be the ultimate triumph on his home lake.
"It would mean everything," he said. "Of course, I want to win a Tour event so bad I can't stand it. I've won the BFL AOY here, I've won BFLs and a Costa. I've won at every level so it would be the icing on the cake."
He's mixed up a crankbait, a jerkbait and a swimbait this week and finally caught one today on a lipless crankbait.
"It's been a big mix and it all depends on where I'm fishing," he said.
He's yet to catch a fish before 9 a.m. in 3 days and he plans to alter where he goes to start the final day.
"I'm going to be starting at a different spot for the first 90 minutes because anything at this point would be a bonus," he noted.