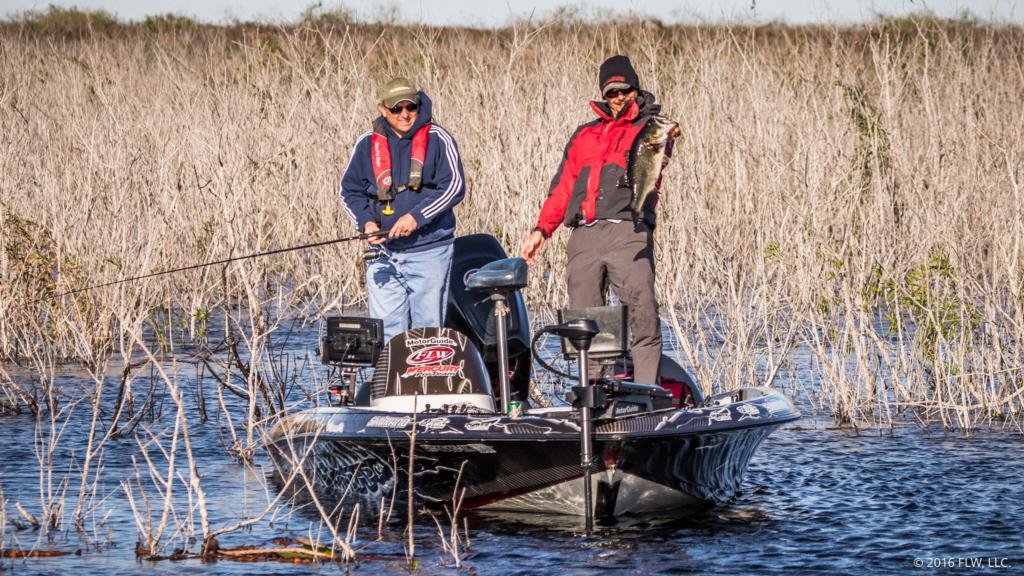 2. Alex Davis found beds in flooded bushes
Alex Davis, a well-known guide from Lake Guntersville, scored a top 10 in the season-opener to get his Tour season off on the right foot. Davis' four-day total was 56 pounds, 4 ounces.
Davis found a mother lode of spawning bass on the Big O in a small clear-water pocket just several hundred yards off the main lake. The area was the size of two or three bass boats and featured flooded trees and bare bushes – quite an anomaly among Okeechobee's thousands of acres of green vegetation. According to Davis the area featured about 60 or 70 flooded bushes and small trees, and every one of the bushes had a bed at the base of it.
"It was all hard bottom in there," Davis says. "They were bedding in there like you see bream or shellcracker bed with beds all crammed in there next to each other – dozens and dozens of beds."
Over the first two days, Davis hauled almost 42 pounds of bass out of the trees, which put him behind Hallman going into day three. But on day three the Alabama pro's gold mine area fizzled out, and he had to resort to fishing hayfields for buck bass just to try and get a limit.
When fishing the bed-laden woody cover, he used a Jackall Flick Shake 6.8 (Junebug) worm topped with either a 1/4- or 3/8-ounce weight. He pinned the worm on a 5/0 Gamakatsu EWG Superline hook tied to 80-pound-test PowerPro Maxcuatro braid.
"Getting a bite wasn't the hard part," Davis says. "If I could just get the bait anywhere back in that flooded jungle, one would bite it. But getting them out was a different story. Winching them out of there was pure chaos. I lost a couple that way, but it sure was fun while it lasted.